Posts tagged
facepalm
The continuing ignorance of the hardline Tory MPs who spearheaded the UK's departure from the European Union is a gift that just keeps on giving.
Not only do they not understand how the EU works (clue: it's a rules-based organisation. Ed.), they also do not know how international trade works (clue: that's also a rules-based system. Ed.).
When it comes to ignorance of the workings of international trade – and tariffs in particular – Shrewsbury and Atcham MP Daniel Kawczynski has previous form, ending up looking a lemon in respect of, er, lemons.
However, there appears to be no start to Daniel's ignorance and no end to his vanity in wanting to draw attention to the same. On Monday 22nd February he posted the tweet below on his Twitter account.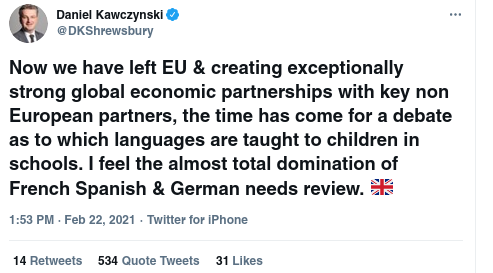 Daniel no doubt believes that these languages are spoken solely in countries such as France, Spain and Germany in the hated EU.
Time to think again, Danny Boy! 😀
Let's start with your last mentioned language shall we, Daniel (especially as it might be considered the easiest to dismiss.Ed.)?
German is, of course, spoken in Germany. However, it's also the official language in Austria as well as being one of Belgium's four official languages. In Italy's province of Alto Adige (also known as the Südtirol. Ed.), 62% of the population are German speakers. Outside the EU, German is also one of Switzerland's four official languages. German is a recognised minority language in the Czech Republic, Hungary, Poland, Romania, Russia and Slovakia. Beyond Europe there are still 25,000-30,000 native German speakers in Namibia, despite it ceasing to be a German colony over a century ago: some 12,000 persons whose first language is German currently live in South Africa. Turning to South America, there are an estimated 1 million German speakers, with German-speaking minorities in almost every Latin American country including Argentina, Belize, Bolivia, Brazil, Chile, Colombia, Costa Rica, Dominican Republic, Ecuador, Guatemala, Mexico, Nicaragua, Paraguay, Peru, Uruguay, and Venezuela. In North America, there are also German-speaking minorities in both the USA and Canada.
The map below illustrates where German is spoken around the world.
How does Daniel fare with French?
Equally badly is the answer.
Besides the EU countries of France, Belgium and Luxembourg, French is also spoken within Europe in Monaco and parts of Italy. Throughout the world there are estimated to be some 274 million French speakers, of whom some 77 million are native speakers. Within the EU alone, French is the third most widely spoken language (after English and German), being spoken by 19.71% of the population and is the second most-widely taught language after English. It's an official language not only in France, but Belgium, Luxembourg, Monaco and Switzerland. It is also widely spoken in Italy's Aosta valley region.
However, it is in Africa – and particularly former French colonies and territories – that the majority of the world's French speakers live. According to a 2018 estimate from the Organisation Internationale de la Francophonie, an estimated 141 million African people spread across 34 countries and territories can speak French as either a first or a second language. This estimate does not include those inhabitants of non-Francophone African countries who have learned French as a foreign language.
Looking at the Americas, French is the second most common language in Canada, after English, and both are official languages at the federal level. It is the sole official language in the Canada's Quebec province. In the USA, French is the fourth most-spoken language in the United States after English, Spanish, and Chinese, when all forms of French are considered, according to the United States Census Bureau.
The following map shows membership of the Organisation internationale de la Francophonie, the international organisation representing countries and regions where French is either a lingua franca or customary language.
So far that's two own goals Daniel's scored on the worldwide importance of 2 of the major foreign languages taught in British schools.
How does he fare with his third target – Spanish?
In short, not any better.
Today Spanish has 500 million native speakers, mainly in Spain and the Americas and is the world's second-most spoken native language after Mandarin Chinese and the world's fourth-most spoken language overall after English, Mandarin Chinese, and Hindi. Overall there are estimated to be 586 million speakers of Spanish in the world. As befits its large number of speakers, Spanish is one of the six official languages of the United Nations and it is also used as an official language by the European Union, the Organization of American States, the Union of South American Nations, the Community of Latin American and Caribbean States, the African Union and many other international organisations, as well as being one of the world's most widely taught foreign languages.
Below is a map showing where in the world Spanish is spoken.
So how's Daniel done?
In brief, not very well.
If Mr Kawczynski had been a footballer instead of a member of Parliament, he would have gone down in the match report as having scored three goals for the opposing side, also know as own goals (Kawczynski 3, og).
Finally, it's worth pointing out that Daniel has been appointed the UK's trade envoy to Mongolia. If his tweet was an attempt to increase the teaching Mongolian as a foreign language in British schools, it was, to say the least, extremely clumsy.