Posts tagged
food
Yesterday's online version of the Bristol Post (now renamed Bristol Live. Ed.) carried a shocking item about a hitherto unknown catalyst for violence: the toasted cheese sandwich.
According to the Post, this humble snack may not be served at a proposed catering concession in Monk's Park in Bristol's Southmead district "amid fears a proposed hot food van could attract booze-fuelled anti-social behaviour and motorbike gangs".
The Post continues:
Councillors have agreed to grant a provisional licence for cold food, such as ice cream, and tea and coffee in Monk's Park, Biddestone Road.

But the vendor would be barred from selling hot snacks following dozens of objections from residents, a ward councillor and the headteacher of a nearby secondary school.
However, the fear of violent behaviour was not the only concern for banning hot food: councillors on the city council's public safety and protection committee also feared children from the next-door school would be tempted to skip lessons due to the lure of grilled fermented curd.
Following the committee's decision the concession will now be put out to tender.
However, the story does not end there. When your correspondent posted about the article on Twitter, one person to respond was local artist Dru Marland, whose response about fermented curd addiction was hilarious.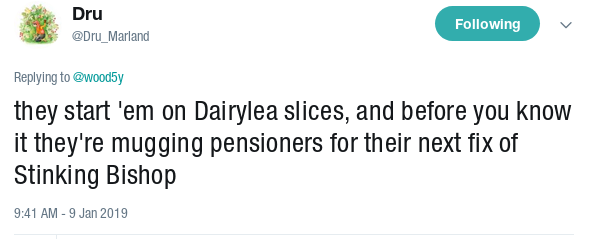 For a more complete understanding of the violence-inducing properties of cheese, I should have asked the committee about their opinions of more exotic varieties of fermented curd, such as Roquefort or Graviera, but pressure of time dictated otherwise. 🙂
Update: Not forty-eight hours after Bristol was opened to national and international ridicule over this affair, Bristol Live reports that residents of Bristol's Cotham district have branded a hot food catering van an "appalling idea". You couldn't make this stuff up!