French stay connected on holiday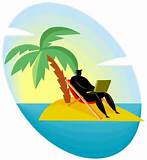 Nearly one in two French citizens takes a computer on holiday to connect to the internet, reports Le Monde Informatique.
A survey has revealed that 47.2% of the French may take a computer on holiday this summer, with a peak of 60% in the 18-24 years old group. A majority of them plan to use the computer for an average half an hour a day (46.1% between 30 minutes and 1 hour; 17.3% more than one hour).
Once connected, 87.5% of holidaymakers will use their computer to surf the internet, 57.6% for leisure (watching films or listening to music), 37.4% for saving or retouching their photographs and 19.8% for work.
Although 91.2% of holidaymakers will be connecting from where they are staying (hotel, rented accommodation, camp site), 29.8% also want to make use of places offering wifi connections, 11.7% for surfing while travelling and 4.2% are even going to be brave enough to use their computer on the beach. A majority of them (64.3%) also complain regularly of the lack of wifi or its poor quality.
Even though the majority of holidaymakers (71.9%) give priority to relaxing during summer, spending time in front of a computer or another device has now become a priority form almost one in 10 French citizens (9.3%).
This survey was conducted by Easy Panel for Crucial.fr via the internet from 23rd to 26th April 2013 using a sample of 1,015 people owning a computer and representative of the French population.
This entry was posted by Steve Woods on July 2, 2013 at 13:02, and is filed under Oddities, Tech. Follow any responses to this post through RSS 2.0. Both comments and pings are currently closed.
Comments are closed.