Steve Woods
Elderly, generic carbon-based humanoid life form.
Posts by Steve Woods
0
On 21st January, Clean Up Britain launched the most comprehensive anti-cigarette litter campaign with a pilot in Bristol. Clean Up Britain eventually hopes to extend the pilot campaign to the rest of the country.
Background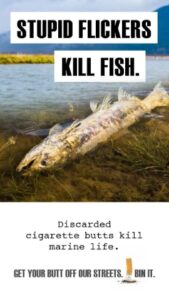 Cigarette butts are the most littered item on the planet. Even in Britain some 27 billion cigarette butts littered in Britain every year. These dropped dog ends allow toxic contaminants to seep into the environment causing significant environmental pollution to watercourses and soil. Moreover, there are now three million e-cigarette users (aka vapers. Ed.) in Britain and e-cigarette waste is also very serious since it produces plastic, nicotine salts, heavy metals, lead, mercury and flammable lithium batteries, again endangering the soil, wildlife and watercourses.
Clean Up Britain states it will be providing a comprehensive programme of behavioural change interventions in Bristol aimed at reducing cigarette butt littering at its source, by encouraging adult smokers to dispose of their cigarette butts properly. This will include various campaign publicity messages aimed at deterring the casual disposal of smoking waste.
How well or even whether this programme will work remains to be seen. Your 'umble scribe will watch developments with interest.
0
If there's one thing that characterises Reach plc's regional newspaper titles it is lack of attention to detail, whether that is their use of English, captioning of photos, geographical location and so on.
Earlier this week visitors to the Bristol Post website (aka BristolLive. Ed.) were treated to an exemplar of this poor quality media production.
It's not unusual for newspaper sites to encourage their visitors to sign up for newsletters as a marketing tool and thus increase their traffic.
However, the Bristol Post's latest effort, which is posted on a page that seems to be syndicated across several different regional titles, appears to have been mistargeted, landing a direct hit on the banks to the River Hull at its confluence with the Humber estuary, rather than the banks of the Bristol Avon.
This is not the first time (and definitely won't be the last. Ed.) that Reach titles have played fast and loose with geography. Four years ago, the Bristol Post magically transformed into the Manchester Evening News (posts passim).
This action raises a number of questions, i.e.:
Is Hull Bristol's newest suburb?
Are HullLive readers being invited to sign up to the BristolLive newsletters in the interests of balance if nothing else?
How many seconds would the average modern Reach employee have survived in post if magically transported back to the days when all regional newspapers employed sub-editors?
If you know the answer or can provide further elucidation, please comment below. 😀
0
Under pressure part-time alleged Prime Minister Alexander Boris de Pfeffel Johnson is facing increased calls for his resignation following revelations of regular lockdown-busting parties at No. 10 Downing Street, two of which took place on the evening before the funeral of the late Philip Mountbatten-Windsor (aka Phil the Greek. Ed.).
These latest revelations have been added to the evidence built up over the decades that Johnson – an immodest man with much to be modest about – is unfit to clean a public toilet, let alone occupy the highest elected office in the land. For a summary of Johnson's lying, philandering, laziness, law-breaking and other character flaws, the latest Observer editorial comment is scathing, accusing Johnson of hurting the country and shaming his party.
Furthermore, the mainstream media is only now starting to print and broadcast the shortcomings in character should have been general public knowledge long before Johnson's name was even suggested as a suitable candidate for an election nomination paper.
Johnson's path to the most famous black door in the world has been an upward trajectory propelled by lies, incompetence and bluster.
However, do not expect an egotistical creature with a sense of entitlement like Bozo the Clown to relinquish the power of the highest elected office in the land voluntarily.
Like most who end up behind that black door, Johnson will leave claw marks down the pavement as he is evicted from behind Downing Street's security gates.
And so it has come to pass that, as The Independent announced two days ago,an egotistical character like Bozo the Clown Johnson is launching Operation Save Big Dog with, yes you guessed correctly, Johnson playing the eponymous subject of the operation.
This will consist mainly of seeing which subordinates can be sacrificed to ensure Johnson himself survives in post.
If Johnson were of the canine persuasion, his record suggests a more apposite adjective than big for this particular pooch would be rabid.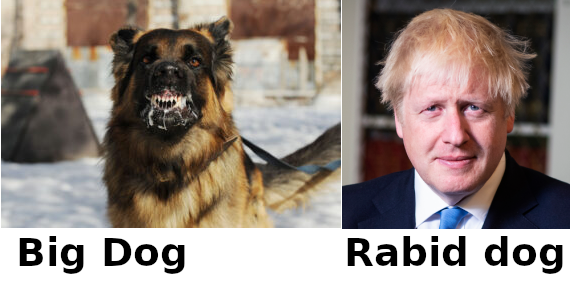 0
The forthcoming point release of LibreOffice, the free and open source office suite, will feature support for two constructed languages – Klingon and Interslavic – Neowin reports.


Klingon is of course well known to lovers of the US science fiction Star Trek media franchise created by Gene Roddenberry as the language of the alien race of the same name and created by US linguist Mark Okrand, actor James Doohan (who played chief engineer Montgomery "Scotty" Scott. Ed.) and scriptwriter and producer Jon Povill.
The Klingon language is first mentioned in the original Star Trek series episode "The Trouble with Tribbles" (1967), but is not heard until 1979 in Star Trek: The Motion Picture.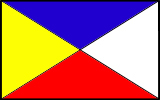 Interslavic is a pan-Slavic auxiliary language whose purpose is to facilitate communication between people from different Slavic nations, as well as allowing those who do not know any Slavic language to communicate with Slavs by being understandable to most, if not all Slavic speakers without them having to learn the language themselves.
When it comes to classification, Interslavic can be described as a semi-constructed language, being in essence a modern continuation of Old Church Slavonic, but it also draws on the various improvised language forms Slavs have been using for centuries to communicate with Slavs of other nationalities.
These are not the first constructed languages for which there is support in LibreOffice. Esperanto is already catered for in the form of a LibreOffice Esperanto extension which provides a spellchecker and hyphenation.
Commenting on the support for Klingon, The Document Foundation remarked:
Even if Klingon and Interslavic support sounds like a novelty, it shows how versatile free and open source software is. As mentioned, LibreOffice is available in over 100 languages, and we'd like to expand that even further. The more languages the better, especially if we can help to boost IT skills in places which don't otherwise have software in their native languages!
The LibreOffice wiki provides a full list of languages supported by the office suite.
0
In France the Commission Nationale de l'Informatique et des Libertés (CNIL) has fined Google €150 million and Facebook €60 mn. for non-compliance with French data protection legislation, which also covers cookies.

As a result of its investigations following the receipt of complaints from members of the public, the CNIL found that the websites facebook.com, google.fr and youtube.com do not make refusing cookies as easy as to accept them and so penalised them financially. The €150 mn. fine for Google is broken down into €90 mn. for Google LLC and €60 mn. for Google Ireland Ltd.
Furthermore, the CNIL also ordered Google and Facebook to provide French-based internet users lwith a means of refusing cookies as simple as the existing means of accepting them, in order to guarantee their freedom of consent, within three months. If they fail to do so, the companies will have to pay a penalty of €100,000 euros per day of delay.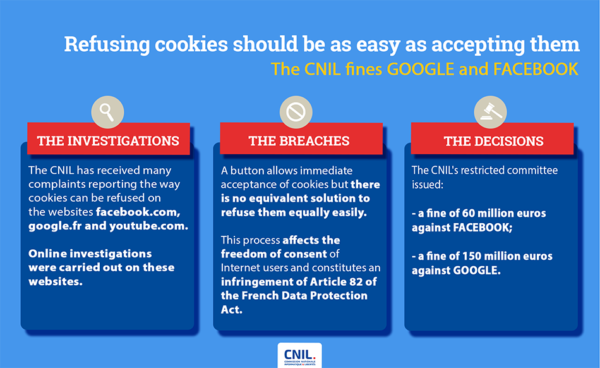 The problem of privacy-conscious people being put to unnecessary effort to reject cookies is widespread. For instance, when visiting a Reach plc newspaper site (Reach owns the Mirror, Express and scores of regional news titles around the country. Ed.), users who wish to reject all cookies have to work through the options; this entails four clicks of the mouse, as opposed to one to accept all cookies. The best sites have a one-click option to accept or reject all cookies.
As someone who has been using the internet since the days of dial-up modems, your 'umble scribe has long believed rejecting cookies should be the default and those who want to accept them made to go through the same laborious process to which cookie refuseniks are currently subjected.
0
On 7 June 2020, the statue of slave trader and religious bigot Edward Colston, which had blighted the centre of Bristol for well over a century, was assisted off its plinth and taken for a walk for a bath in the city docks near Pero's Bridge (a bridge named after a former slave. Ed.).
Yesterday in Bristol Crown Court a jury of their peers found the defendants Rhian Graham, Milo Ponsford, Sage Willoughby, and Jake Skuse – the so-called Colston 4 – not guilty of criminal damage as a result of Eddie the Slaver ending up in the drink that afternoon a year and half ago, as The Bristol Cable reports.
The verdict has not gone down well with some right-leaning culture warriors and those whose view of history is coloured more by the propaganda extolling the virtues of the British Empire instead of the brutality of its crimes against humanity, theft, violence and exploitation. This tweet from the Save Our Statues account is a typical example.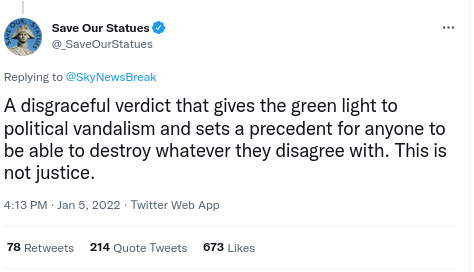 The sense of outrage is not confined to social media. In the vanguard was the outrage of the Daily Express (which some still call the Express. Ed.) with the headline below today's front page.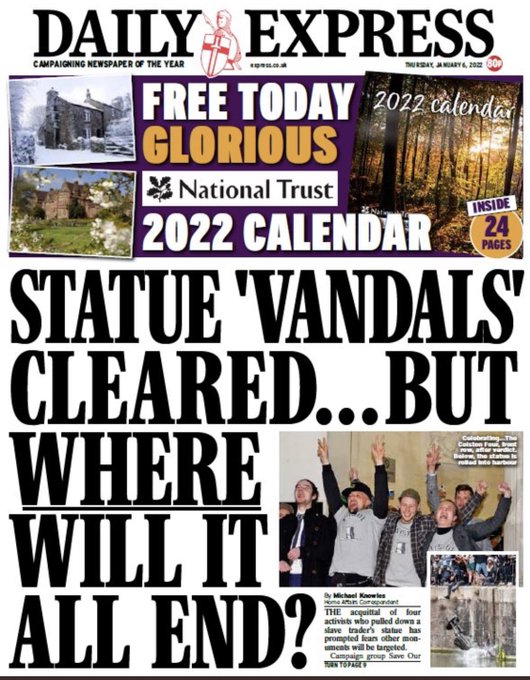 Just above the headline a small matter of media hypocrisy comes into view. Note the promotional flash for the glorious National Trust 2022 calendar. Not so very long ago the Express was one of those right-wing newspapers that were condemning the National Trust and accusing it of being woke (whatever that's supposed to mean. Ed.) for the organisation's efforts to learn more about the history of its properties, resulting in the Trust publishing a report last year that found 93 of its properties had connections with colonialism and slavery.
Furthermore, it was just right-leaning social media accounts and media that were outraged. Members of Parliament also joined in the outrage.
Step forward Robert 'Honest Bob' Jenrick, MP for Newark and formerly Secretary of State for Housing, Communities and Local Government. Jenrick took to Twitter yesterday to pontificate as follows:
We undermine the rule of law, which underpins our democracy, if we accept vandalism and criminal damage are acceptable forms of political protest.
They aren't. Regardless of the intentions.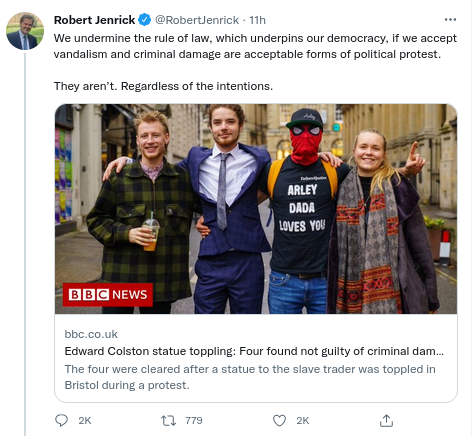 It is encouraging to see such strong support for the rule of law from Honest Bob, a man who when occupying his lofty Whitehall perch was found by the High Court to have acted unlawfully in approving a £1bn east London development by former publisher and Tory Party donor Richard Desmond.
The Colston 4 verdict and the verdict of unlawful action Jenrick's planning decision clearly do not sit well with the likes of Honest Bob.
However, he and others need to remember that justice – especially as perceived by juries in their verdicts – does not always match everyone's expectations, especially where concepts of lawful and/or reasonable excuse are involved.
Justice is not like Woolworth's Pick'n'Mix sweet counter and the likes of Honest Bob are in no position to lecture the masses about the sanctity of the rule of law.
In conclusion, here's a wee photo for Bob, the right-wing press and social media accounts to think about. 😀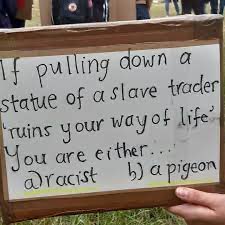 The Cotswolds constituency, which includes the towns of Cirencester, Andoversford, Bourton-on-the-Water, Chipping Campden, Fairford, Lechlade, Moreton-in-Marsh, Northleach, Stow-on-the-Wold and Tetbury, are another modern rotten borough (or one-party state. Ed.), having returned a Conservative member to parliament for over 120 years.
The members it returns also tend to hold reactionary views.
The previous incumbent, Nicolas Ridley, who stepped down in 1990, is on record as having described the European Union's the proposed Economic and Monetary Union as "a German racket designed to take over the whole of Europe" and said that giving up sovereignty to the European Union was as bad as giving it up to Adolf Hitler.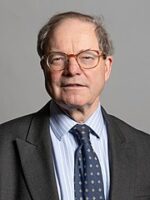 So what of the present incumbent, one "Sir" Geoffrey Robert Clifton-Brown, old Etonian, alumnus of the Royal Agricultural College and chairman of the reactionary backbench 1922 Committee?
Geoffrey hasn't exactly endeared himself to the residents of Wales, Scotland and Northern Ireland in the past couple of days, according to Wales Online.
Reporting on an interview on pandemic restrictions given to Murdoch-owned Times Radio, Clinton-Brown is on record as stating that the other nations in the English Empire (which some still call the United Kingdom of Great Britain and Northern Ireland. Ed.) having different rules to England was damaging people's liberties and the economy.
When asked "How concerned are you about England being out of step with the rest of the country?", Clinton-Brown replied as follows:
I think it's the other way around. I think the principalities are out of step with with with England. I think they have been overly cautious. I think they're doing more damage to their economies than they need to. I think they're doing more damage to people's liberties than they need to. I just don't think the evidence unless as I say the data coming out today is very different. I don't think the evidence is there for any further measures.
Principalities, Geoffrey?
Right.
Let's take this apart slowly. The English Empire is made up of four allegedly equal parts. First there's the Principality of Wales, which mostly annexed by England in the 13th century. It where lots of the later colonial tactics used in the British Empire to oppress the native were first implemented and/or tried out, (such as e.g. the suppression of the local language in the country's administration). Then there's the Kingdom of Scotland, a sovereign state in its own right that entered the Treaty of Union with England in 1706. And finally, there's Northern Ireland. Ireland's history with the English/British state is bitter and complicated, but the final six counties still occupied by the British state are commonly referred to as a province.
So that makes one principality, one kingdom and one province. That's right; just one principality.
Wales, Scotland and Northern Ireland all now have devolved local assemblies. One of the remits of each of the devolved administrations is health. Westminster has no say in what the Senedd Cymru, Scottish Parliament and Northern Ireland Legislative Assembly; and Westminster has decided that England does not need the stricter pandemic restrictions introduced by the devolved assemblies.
And that's what Geoffrey dislikes. His whole attitude in that interview comes across as condescending. He might be concerned about personal liberties and the economy, but his real gripe is the loss of centralised control Whitehall and Westminster used to have over England's remaining colonies, which is how the devolved regions were treated before devolution.
Congratulations, Geoffrey! No doubt you call yourself a Unionist, i.e. a supporter of the continued unity of England, Scotland, Wales and Northern Ireland as one sovereign state.
Words are important; and your insensitive remarks and ill-chosen vocabulary have more than likely contributed to the dissolution of that union in the face of growing calls for Scottish and Welsh independence, as well as boosting the chances of Irish reunification.

After many iterations and amendments, the European Parliament adopted the Digital Markets Act (DMA) by 642 votes in favour, 8 votes against and 46 abstentions, the Free Software Foundation Europe (FSFE) reports.
The Act introduced the principle of Device Neutrality. At the same time, the Parliament missed the chance to introduce strict interoperability requirements based on Open Standards.
The FSFE has urged EU legislators to safeguard Device Neutrality in the DMA. We regret the voting has not contemplated setting Open Standards as default to define interoperability. However, getting Device Neutrality in the legislation is the first step. The right for end users to use their own devices and operating systems is an important factor to guarantee the access of free software operating systems to dominant platforms. As a daily reality for many users, this option enlarges the audience for free software adoption.
Lucas Lasota, the FSFE's Deputy Legal Co-ordinator, remarked as follows:
We strongly believe the digital markets will benefit by facilitating access to Free Software in devices. Device Neutrality translates in the DMA as stricter consent rules for pre-installed apps, safeguards against vendor lock-in and real-time data portability. Interoperability of services was also introduced, but not with the requirement to be based on Open Standards. This is a lost chance to leverage competition with accessible and non-discriminatory technical specifications. Open Standards are an important element for innovation by allowing market actors to innovate on top of technical specification standards and build their own services.
The FSFE has been working for two decades empowering people to control the technology in their devices. It will closely follow the implementation of the Act and continue its activities and initiatives to safeguard the interests of end users.
The European Commission announced today that it has adopted new rules on Open Source Software that will enable its software solutions to be publicly accessible whenever there are potential benefits for citizens, companies or other public services.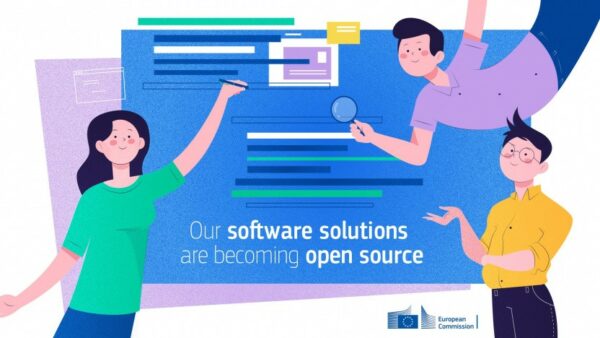 The Commission's recent studyon the impact of Open Source Software and Hardware on technological independence, competitiveness and innovation in the EU economy revealed that on average, investment in open source results in four times higher returns. The Commission services will be able to publish the software source code they own in much shorter time and with less paperwork.
One example of the benefits of releasing software as open source is eSignature, a set of free standards, tools and services that help both public and private sector organisations accelerate the creation and verification of electronic signatures that are legally valid in all EU Member States.
A second example is LEOS, (Legislation Editing Open Software), the software used across the Commission to draft legal texts. Originally written for the Commission, LEOS is now being developed in close collaboration with Germany, Spain and Greece.
Single repository
The Commission will make its software available as open source in one single repository to enable access and reuse. Before its release, each software package will be checked to avoid security or confidentiality-related risks, data protection problems or infringement of third party intellectual property rights.
The Commission already shares hundreds of software projects as open source, including software developed for the Connecting Europe Facility, Eurostat, the Interoperable Europe Programme (Interoperability solutions for public administrations, businesses and citizens programme, the former ISA² programme), and for the Joint Research Centre.
Commenting on the announcement, the EU's Commissioner for Budget and Administration, Johannes Hahn, said:
Open source offers great advantages in a domain where the EU can have a leading role. The new rules will increase transparency and help the Commission, as well as citizens, companies and public services across Europe, benefit from open source software development. Pooling of efforts to improve the software and the co-creation of new features lowers costs for the society, as we also benefit from the improvements made by other developers. This can also enhance security as external and independent specialists check software for bugs and security flaws.
Today 7th December is Welsh Language Rights Day and the Welsh language Commissioner has produced a small video that both illustrates and promotes the use of Welsh in everyday life in the country.
English subtitles are provided for those with little or no facility in Welsh.
Steve Woods's RSS Feed