Bristol
0
This blog has written before about the changing messages that appear on a garage wall at the apex of the junction of Russelltown Avenue, Cannon Street and Whitehall Road (posts passim).
The message has now changed again and reads as per the photo below.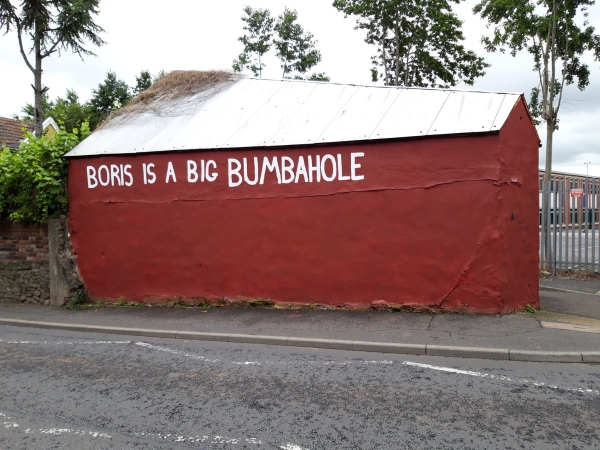 According to Urban Dictionary, bumbahole is a synonym of arsehole in British English and asshole in American English.
One can safely assume that the Boris being referenced is none other than the superannuated Billy Bunter-like figure of one certain Alexander Boris de Pfeffel Johnson, who has been inexplicably promoted beyond his competence to the office of Prime Minister of the English Empire, a job he fulfils to his own satisfaction on a part time basis.
Among the less favourable characteristics of Bunter's personality are gluttony, laziness, racism, deceit, sloth, self-importance and conceit, all of which have been extensively documented down the decades by others more eloquent than your 'umble scribe (e.g. his former employer Max Hastings) as also being present in the part-time alleged prime minister's character.