Tech
As your 'umble scribe writes this post, part-time alleged prime minister Alexander Boris de Pfeffel Johnson is now on day two of an extensive reshuffle of government ministers.
His first cabinet was chosen more for loyalty to Brexit than for talent and included some who had done a complete 180-degree turn on their pre-referendum stance in order to climb the greasy pole of political ambition.
The latter include the singularly untalented Liz Truss (whose biggest achievement as Trade Secretary was copying and pasting new copies of pre-existing EU trade agreements with third countries so they could continue in effect in a post-Brexit context. Ed.), who can now carry on filling in the ministerial My First Foreign Secretary's Colouring Atlas where Dominic Raab left off, following the latter's demotion to Justice Secretary.
The singularly unattractive Priti Patel remains as Home Secretary. The less said about that the better.
However, given the shallowness of the Tory talent pool, the most surprising appointment of the first day of Johnson's rearranging the deckchairs on the Titanic was his appointment of Nadine Dorries as Secretary of State for Digital, Cultural, Media and Sport. Nadine was put on Earth to demonstrate that potatoes are more intelligent beings than the Rt. Hon. Member for Mid Bedfordshire.
Part of the fragrant Nadine's brief includes all things digital, including the minor matter of IT security. To gain an insight into the new Secretary of State's attitude to this subject, I refer readers to 2 Dorries tweets from 2017.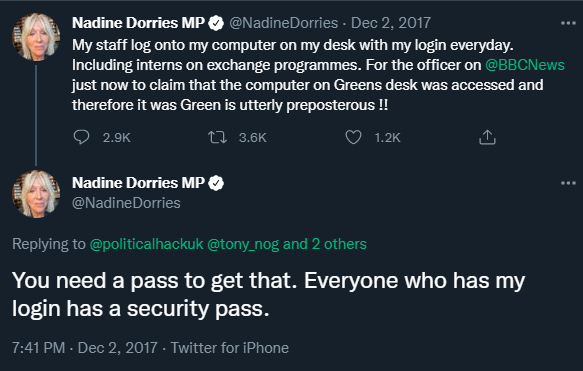 Cavalier doesn't quite describe such an attitude to basic security and privacy.
Then there's the whole question of gravitas – a necessary pre-requisite for public office, not that you'd know it with Bozo the Clown's appointments.
A quick glance across the English Channel and North Sea to 2 European counterparts reveals some startling contrasts. Besides being French Culture Minister, present incumbent Roselyne Bachelot is an opera fan who has written a well-regarded work on Verdi. Monika Grütters, Germany's Culture Minister was a university lecturer before entering politics and is still an honorary professor at Berlin's Free University. On the other hand, Dorries' biggest claim to fame (after her fiddling expenses) is eating ostrich anus on a so-called reality television show.