Meet Victor
In Ireland, any predominantly Irish-speaking area is known as a Gaeltacht (plural: Gaeltachtaí). The island's Gaeltachtaí are shown in green on the map below.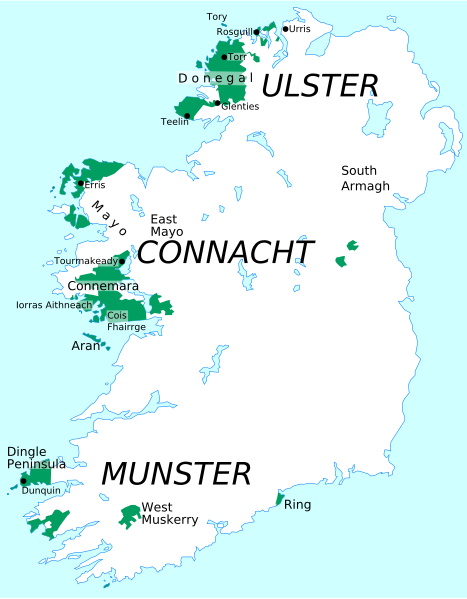 The green-shaded area beneath the Dingle Peninsula is the Iveragh Peninsula (Irish: Uíbh Ráthach) in County Kerry and an interesting appointment has just been made here.
Yesterday Irish broadcaster RTE reported that a Russian had been appointed as an Irish language officer there and would be leading efforts to revive the Irish language there.
RTE states:
Victor Bayda, a native of Moscow, has taken up the post with Comhchoiste Ghaeltacht Uíbh Ráthaigh, a community organisation in the south Kerry Gaeltacht of Uíbh Ráthach.
Mr Bayda is a fluent Irish speaker and has been teaching it in Moscow for about fifteen years. In addition to Irish, Mr Bayda also speaks Dutch, Scots Gaelic, Welsh, Swedish, French, German and Icelandic.
His duties in his new post will include implementing a comprehensive language plan aimed at arresting the decline of the language on the peninsula, where 60% of the residents claim the ability to speak Irish.
According to the 2016 Irish census, just 7% of the Gaeltacht population speak Irish daily outside the education system.
Mr Bayda becomes the tenth Irish language planning officer to be appointed so far in Gaeltacht areas.
In 2017, Victor posted the video below on Youtube.
This entry was posted by Steve Woods on February 22, 2019 at 08:23, and is filed under Language, Media, Oddities. Follow any responses to this post through RSS 2.0. Both comments and pings are currently closed.
Comments are closed.