Abandoned cycle removal – a Bristol how-to
Cycling has undergone an upsurge in popularity in recent times due to it being a healthy and convenient mode of transport.
Nevertheless, this increase in popularity does have some drawbacks, one of which is damaged or abandoned cycles  being left attached to cycle racks or other street furniture, like this typical example on Lawrence Hill by the station steps.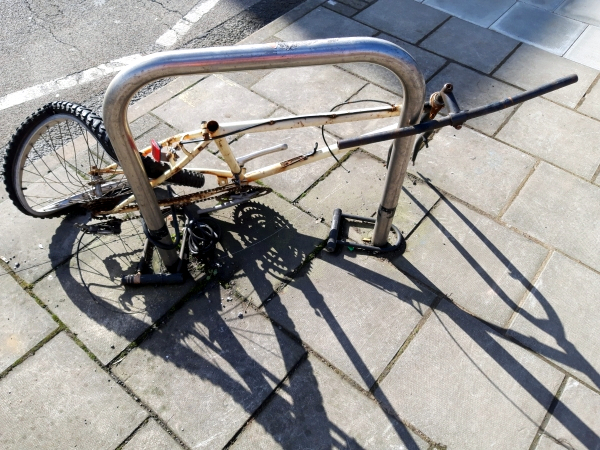 Even though I've been involved for a decade with trying to stem the tide of litter and fly-tipping that blight our streets, I was uncertain of the procedure to follow to report dumped bikes and get them removed.
I therefore turned to the Community Engagement Team of Bristol Waste, a council-owned company responsible for recycling and waste collections and street cleansing, for advice.
The relevant part of their response is quoted below.
The process is – logging a web form under street cleansing (https://www.bristol.gov.uk/streets-travel/street-that-needs-cleaning) and then provide the details of where the bike is. The crew will go and cut it off and dispose of it. If it looks like its owned by someone, then we put a notice on for 3 weeks and then go back and remove it if still there.
That seems very simple indeed.
Thanks, for your helpful reply, Bristol Waste!
I now hope others will join me in keeping the streets free of abandoned clutter.
NB:: as abandoned bikes are not specifically mentioned in the drop-down list of items that can be reported for attention, I chose to class it as 'Litter'. 😀

This entry was posted by Steve Woods on 24/02/2021 at 09:38, and is filed under Bristol, Politics. Follow any responses to this post through RSS 2.0. Both comments and pings are currently closed.
Comments are closed.