Morrisons – bottom of the class in Welsh
It's always good to see Welsh being promoted in Wales.
However, it does help if one uses a professional translator and native Welsh speaker before committing any money to doing works on the ground.
This has clearly not been done by supermarket chain Morrisons with the car park markings shown below at its supermarket car park in Caernarfon.
The error was brought to the attention of non-Welsh speakers by Twitter user Rhysew, who tweeted
C'mon @Morrisons, sort this out! Your Welsh translates as "Arse record" Correct it as DIM MYNEDIAD.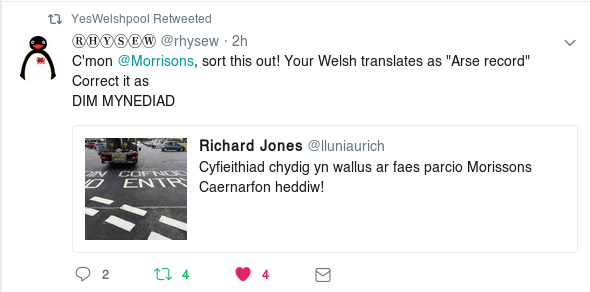 This is not the first time Anglophone companies have treated Welsh – a far older language than English – with the respect it deserves.
Most recently, there was comedy train operating company First Great Western, which will have no Welsh language announcements on its services between South Wales and London (even though it manages to embrace both Welsh and English train announcements at Newport station. Ed.)
Last year there was also Santander, which seems to have problems with Welsh customers expecting transactions in the vernacular despite having a clear Welsh language policy.
In the meantime, would any Welsh-speaking reader care to ask Morrisons if the "arse record" will be available on vinyl. 😉
Comments are closed.