Currywurst reaches 70
Although I graduated over 4 decades ago, I still look back with fondness on the days of my modern languages degree.
One of the absolute requirements for the award of the degree was a compulsory period of residence in countries where the languages being studied were used.
In my instance this involved 5 months' residency in both Perpignan (France) and Saarbrücken (Germany).
While in Germany, I became acquainted with what would now be called German street food, including the currywurst.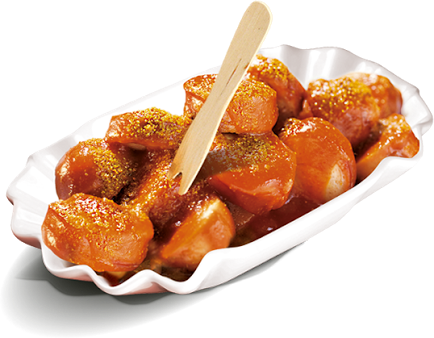 Currywurst typically consists of a bratwurst cut into slices and seasoned with curry ketchup, a sauce based on spiced ketchup or tomato paste, itself topped with curry powder, or a ready-made ketchup seasoned with curry and other spices.
It's often served with chips.
The currywurst reaches the grand of age of 70 this year.
Here's its history in brief.
Herta Heuwer had been running a snack stall in Berlin's Charlottenburg district since summer 1949. There wasn't much happening on 4th September, so she had time to experiment. She mixed freshly chopped paprika, paprika powder, tomato purée and spices together. The she poured the whole lot over a fried, chopped sausage. The currywurst had been invented.
Herta Heuwer subsequently gave her business the address of "The world's 1st currywurst cookshop" and had the word trade mark "Chillup" (a contraction of chilli and ketchup) registered for her sauce.
You can't eat a proper original currywurst any more, because Herta Heuwer took the recipe to the grave with her in 1999. In 2003 a memorial plaque was put up at the former site of her snack bar. According to the German Currywurst Museum in Berlin over 800 million currywurst are consumed every year in Germany.
To mark this culinary anniversary the Berlin State Mint has issued a commemorative coin.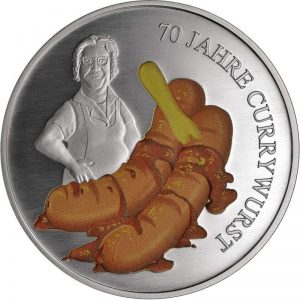 This commemorative coin is the sixth of a series of anniversary issues which the city mint started in 2004 and is limited to a production run of 2,500.
This entry was posted by Steve Woods on 14/01/2019 at 17:35, and is filed under Language, Oddities. Follow any responses to this post through RSS 2.0. Both comments and pings are currently closed.
Comments are closed.