Steve Woods
Elderly, generic carbon-based humanoid life form.
Posts by Steve Woods
From Monday's Bristol Post.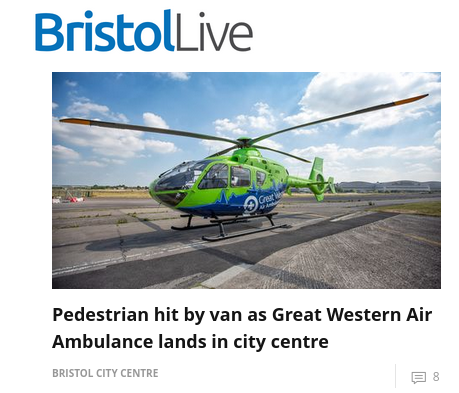 Is this:
correlation;
causation; or
a typical example of a poorly written headline from a Reach plc title?
As your 'umble scribe writes this post, part-time alleged prime minister Alexander Boris de Pfeffel Johnson is now on day two of an extensive reshuffle of government ministers.
His first cabinet was chosen more for loyalty to Brexit than for talent and included some who had done a complete 180-degree turn on their pre-referendum stance in order to climb the greasy pole of political ambition.
The latter include the singularly untalented Liz Truss (whose biggest achievement as Trade Secretary was copying and pasting new copies of pre-existing EU trade agreements with third countries so they could continue in effect in a post-Brexit context. Ed.), who can now carry on filling in the ministerial My First Foreign Secretary's Colouring Atlas where Dominic Raab left off, following the latter's demotion to Justice Secretary.
The singularly unattractive Priti Patel remains as Home Secretary. The less said about that the better.
However, given the shallowness of the Tory talent pool, the most surprising appointment of the first day of Johnson's rearranging the deckchairs on the Titanic was his appointment of Nadine Dorries as Secretary of State for Digital, Cultural, Media and Sport. Nadine was put on Earth to demonstrate that potatoes are more intelligent beings than the Rt. Hon. Member for Mid Bedfordshire.
Part of the fragrant Nadine's brief includes all things digital, including the minor matter of IT security. To gain an insight into the new Secretary of State's attitude to this subject, I refer readers to 2 Dorries tweets from 2017.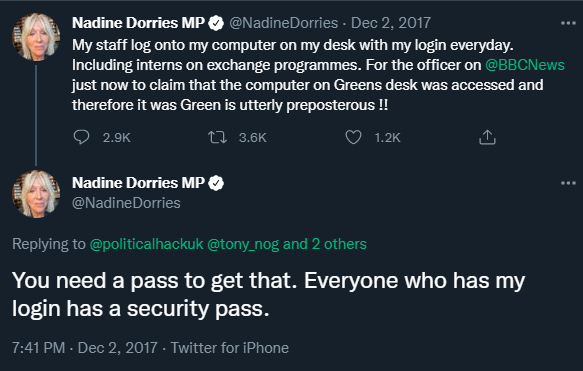 Cavalier doesn't quite describe such an attitude to basic security and privacy.
Then there's the whole question of gravitas – a necessary pre-requisite for public office, not that you'd know it with Bozo the Clown's appointments.
A quick glance across the English Channel and North Sea to 2 European counterparts reveals some startling contrasts. Besides being French Culture Minister, present incumbent Roselyne Bachelot is an opera fan who has written a well-regarded work on Verdi. Monika Grütters, Germany's Culture Minister was a university lecturer before entering politics and is still an honorary professor at Berlin's Free University. On the other hand, Dorries' biggest claim to fame (after her fiddling expenses) is eating ostrich anus on a so-called reality television show.
The Murdoch Sun has long had a reputation for making up stories, such as the infamous The Truth front page which accused Liverpool fans of misbehaviour and criminality at Hillsborough in 1989 when 97 Liverpool football fans lost their lives in an incident which a later inquest ruled to have involved unlawful killing.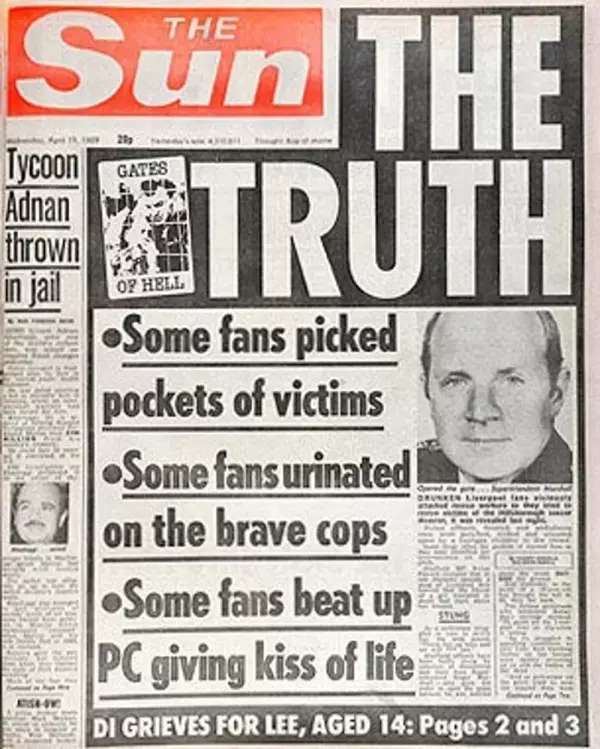 That front page untruth resulted in a boycott of Rupert's rag by the city of Liverpool that continues to this day.
However, not content with upsetting a city for over 3 decades with a made-up story, Murdoch's apology for a newspaper has now started on a more ambitious project – making up a new language akin to English, starting with changing the past tense of the verb
to fly
from a
strong verb conjugation to a weak verb one
.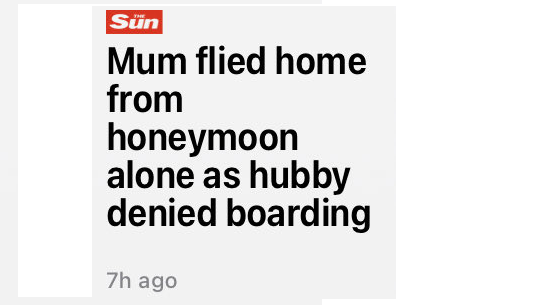 The headline has since been corrected following mockery on social media to the effect that it's now written by 10 year-olds.
Is there no start to the talent of those members of its staff that the title insists it employs as journalists?
How many times have you heard or read the phrase "We take (insert_topic_here) very seriously…" in a newspaper or broadcast media news item?
Today's Guardian website includes a report with not just one but two organisations – HS2 and the Environment Agency – claiming precisely that they take matters within their respective bailiwicks "incredibly seriously" (HS2) and "very seriously" (Environment Agency).
This "seriously" – whether qualified or not – appears to be part of the hackneyed stock reply to the unearthing of errors or shortcomings that the bodies involved would have preferred not to have come to light and seems to your 'umble scribes mind to be shorthand for "we've been caught out".
Another way of describing them is weasel words, i.e. something that someone says either to avoid answering a question clearly or to make someone believe something that is not true. In other words lies and/or hypocrisy are brought into play to save the reputation and embarrassment of the organisation involved and its senior management.
The Guardian's story appears to be a classic example of the modern (mis)use of the adverb seriously. However, your correspondent does at the same time note that neither of the organisations involved resorted to that other stock phrase frequently wheeled out when they've been found wanting, i.e.: "We have robust measures in place…". But let's leave the deceit inherent in the use of robust for another time.
Finally, if HS2 is sincere, the use of the adverb "incredibly also merits examination. Its dictionary definition is "difficult to believe", so in effect what HS2's was actually saying is that it is hard to believe the organisation takes the matter seriously at all. 😀
Welsh schoolteacher Stephen Mason has set up a YouTube channel called So You've Moved to Wales (SYMTW) specifically for non-Welsh speaking schoolchildren moving to a Welsh school and having to catch up on Welsh language studies, Nation Cymru reports.
Mr Mason works at Queen Elizabeth High School in Carmarthen and has 25 years' service at the chalkface.
Explaining his motive for setting up the SYMTW channel, Mr Mason told the paper:
Moving home and changing schools when you are a teenager is a stressful time. A new country, a new school and a new language can easily become associated with an unhappy or stressful life episode. I therefore decided to make a series of videos for Welsh teachers to share with latecomers to their subject that would help them settle into their new surroundings more easily.
The first of Mr Mason's videos is embedded below.
When Viz comic first emerged onto the British media scene in 1979 its content was based on parodying British children's comics, notably The Beano and The Dandy (both of which your 'umble scribe read as a child. Ed.) – of the post-war period with the extensive use of obscenity, toilet humour, black comedy, surreal humour and generally sexual or violent storylines.
It is therefore no surprise that Viz has been taking aim at – and having fun with – part-time alleged Prime Minister Alexander Boris de Pfeffel Johnson and his government of high-functioning imbeciles (the only funny-bone ticklers having a hard job mocking Bozo and his clowns are the satirists. Ed.).
Viz's targeting uses as its vehicle the long-running classic British Carry On film franchise series.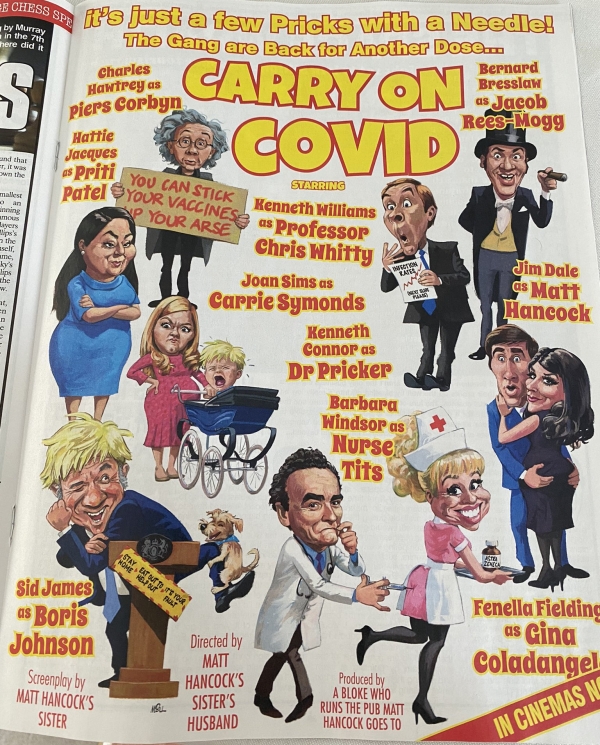 Nevertheless, there seems to have been some mis-casting in the Viz version: Sid James has more competence in his little finger than Bozo the Clown has in his whole anatomy, whilst Priti Patel is more noted for her lack of humanity than an ability to deliver a double entendre.
The flats at Combfactory Court in Easton have a capacious car park with at least 6 or 8 spaces.
However, owing to stringent restrictions imposed on its use – as shown below on the notice on its railings – only one resident is allowed to park at any one time.
Whoever is in charge of the car park has contributed to public view a textbook example of the greengrocer's apostrophe. This is an informal term in British English for the non-standard use of an apostrophe before the final -s in the plural. It would appear the efforts of examinations body the Qualifications and Curriculum Authority since 2006 have been in vain.
For the second time this week, Reach plc's Wales Online title graces this blog with its presence due to its journalists' failure to understand the word ambiguity, let alone recognise what it means and how avoiding it is crucial for members of the fourth estate.
Today sees a classic ambiguous headline for this story.
Amongst other things, the Guardian and Observer style guide states that ambiguity is a common problem in headlines".
If audience viewing figures for GBeebies are to be believed…
The station started on a low and then declined.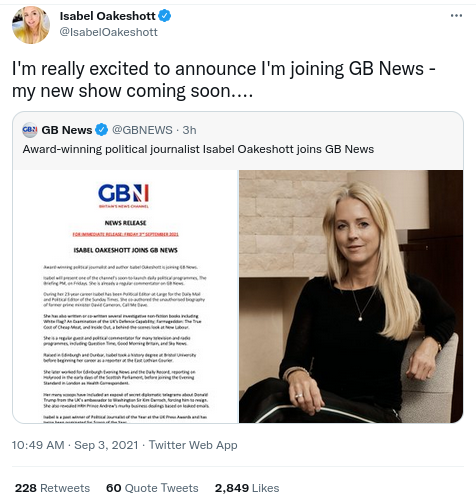 I now wait in trepidation for a letter before action from the Seafaring Rats Association. 😉
Italo Vignoli has posted details of the 2021 LibreOffice Conference (which will take place online. Ed.) on the Document Foundation's blog.

This year's LibreOffice Conference will open at noon CEST on 23rd September and will conclude at 5:30p.m. CEST on 25th September.
The conference schedule has been finalised and is now available. Of course, there may last minute changes until 12th September when the schedule will be frozen. Sometime after that date the schedule will also be available on Android mobiles
People attending the LibreOffice Conference via Jitsi are asked to register by filling in this form. Registration will enable the conference organisers to manage conference sessions in the best way and provide a better experience than in 2020 (when a couple of unwelcome "guests" tried to spoil the event). LibreOffice advocates and conference attendees can support the event by purchasing LibreOffice Conference merchandise from Freewear.
In addition to the Document Foundation blog, conference announcements will be posted on two Telegram groups – LibreOffice Virtual Conference Announcements (https://t.me/LibOcon) and LibreOffice Virtual Conference (https://t.me/liboconvirtual), as well as the dedicated LibreOffice Conference website.
Steve Woods's RSS Feed