Stupid boy! Another pair of lookalikes
It's no secret that Gavin Williamson MP, the current Secretary of State for Defence, is nicknamed Private Pike, after Frank Pike, the fictional Home Guard private and junior bank clerk in the BBC television comedy Dad's Army, who was frequently referred to by platoon commander Captain Mainwaring as "stupid boy".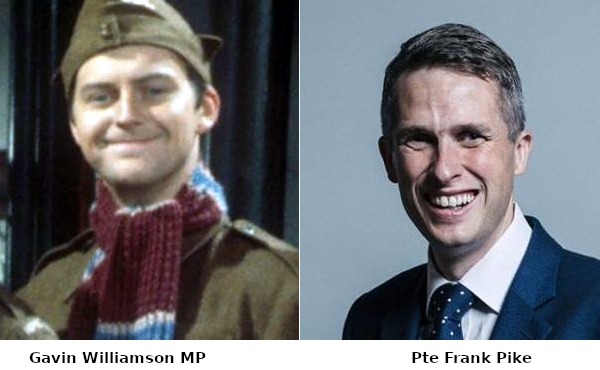 Young Gavin, who is the Member of Parliament for South Staffordshire, had a real stupid boy moment last week.
On Monday, in a gung-ho speech to the Royal United Services Institute, Williamson confirmed that the first of Britain's next-generation aircraft carriers, the Queen Elizabeth, will tour the Pacific as part of its maiden voyage and that the vessel likely to tour the South China Sea at a time of growing tensions regarding China's territorial ambitions.
Needless to say this has not gone down well in Beijing, resulting in a planned trade visit by Chancellor Philip Hammond being cancelled.
Even former Chancellor George Osborne has commented, also alluding to Williamson as a stupid boy, but using rather more words, as iNews reports:
You have got the defence secretary engaging in gunboat diplomacy of a quite old-fashioned kind at the same time as the chancellor of the exchequer and the foreign secretary are going around saying they want a close economic partnership with China.
This entry was posted by Steve Woods on February 17, 2019 at 11:43, and is filed under Language, Politics. Follow any responses to this post through RSS 2.0. Both comments and pings are currently closed.
Comments are closed.