Social Media
Buses are Bristol's major mode of public transport and as your 'umble scribe is now in possession of a geriatric's bus pass, he might actually get around to exploring their possibilities.
One linguistic peculiarity of using the city's buses which must be perplexing to outsiders and visitors is the use of the term drive to denote the person in charge of the vehicle. This normally takes the form of the grateful form of address "Cheers Drive" as passengers get off at their intended stops.
This phrase was last year used to name a new street in the BS5 postcode area, as reported at the time by BBC News.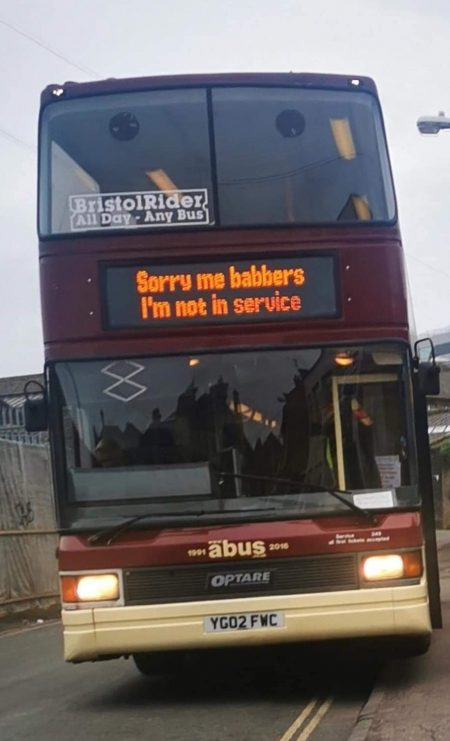 It now seems that the buses themselves have also taken to addressing potential passengers in dialect, as per this photo courtesy of the WeLoveKeynsham Twitter account.
Of course, it's not always been a smooth ride on the city's buses.
Back in 1963, there was a boycott of the city's buses led by youth worker Paul Stephenson and others over the Bristol Omnibus Company's shameful and discriminatory refusal to employ black or Asian people.
Furthermore, the reliability of quality of services has been a perennial problem and formed the subject of Fred Wedlock's song, Bristol Buses.
Cheers drive!