Cotswold colonialism
The Cotswolds constituency, which includes the towns of Cirencester, Andoversford, Bourton-on-the-Water, Chipping Campden, Fairford, Lechlade, Moreton-in-Marsh, Northleach, Stow-on-the-Wold and Tetbury, are another modern rotten borough (or one-party state. Ed.), having returned a Conservative member to parliament for over 120 years.
The members it returns also tend to hold reactionary views.
The previous incumbent, Nicolas Ridley, who stepped down in 1990, is on record as having described the European Union's the proposed Economic and Monetary Union as "a German racket designed to take over the whole of Europe" and said that giving up sovereignty to the European Union was as bad as giving it up to Adolf Hitler.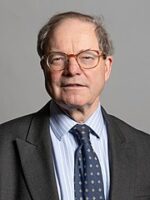 So what of the present incumbent, one "Sir" Geoffrey Robert Clifton-Brown, old Etonian, alumnus of the Royal Agricultural College and chairman of the reactionary backbench 1922 Committee?
Geoffrey hasn't exactly endeared himself to the residents of Wales, Scotland and Northern Ireland in the past couple of days, according to Wales Online.
Reporting on an interview on pandemic restrictions given to Murdoch-owned Times Radio, Clinton-Brown is on record as stating that the other nations in the English Empire (which some still call the United Kingdom of Great Britain and Northern Ireland. Ed.) having different rules to England was damaging people's liberties and the economy.
When asked "How concerned are you about England being out of step with the rest of the country?", Clinton-Brown replied as follows:
I think it's the other way around. I think the principalities are out of step with with with England. I think they have been overly cautious. I think they're doing more damage to their economies than they need to. I think they're doing more damage to people's liberties than they need to. I just don't think the evidence unless as I say the data coming out today is very different. I don't think the evidence is there for any further measures.
Principalities, Geoffrey?
Right.
Let's take this apart slowly. The English Empire is made up of four allegedly equal parts. First there's the Principality of Wales, which mostly annexed by England in the 13th century. It where lots of the later colonial tactics used in the British Empire to oppress the native were first implemented and/or tried out, (such as e.g. the suppression of the local language in the country's administration). Then there's the Kingdom of Scotland, a sovereign state in its own right that entered the Treaty of Union with England in 1706. And finally, there's Northern Ireland. Ireland's history with the English/British state is bitter and complicated, but the final six counties still occupied by the British state are commonly referred to as a province.
So that makes one principality, one kingdom and one province. That's right; just one principality.
Wales, Scotland and Northern Ireland all now have devolved local assemblies. One of the remits of each of the devolved administrations is health. Westminster has no say in what the Senedd Cymru, Scottish Parliament and Northern Ireland Legislative Assembly; and Westminster has decided that England does not need the stricter pandemic restrictions introduced by the devolved assemblies.
And that's what Geoffrey dislikes. His whole attitude in that interview comes across as condescending. He might be concerned about personal liberties and the economy, but his real gripe is the loss of centralised control Whitehall and Westminster used to have over England's remaining colonies, which is how the devolved regions were treated before devolution.
Congratulations, Geoffrey! No doubt you call yourself a Unionist, i.e. a supporter of the continued unity of England, Scotland, Wales and Northern Ireland as one sovereign state.
Words are important; and your insensitive remarks and ill-chosen vocabulary have more than likely contributed to the dissolution of that union in the face of growing calls for Scottish and Welsh independence, as well as boosting the chances of Irish reunification.
This entry was posted by Steve Woods on 29/12/2021 at 14:01, and is filed under Language, Media, Politics. Follow any responses to this post through RSS 2.0. Both comments and pings are currently closed.
Comments are closed.