No ifs, no butts
On 21st January, Clean Up Britain launched the most comprehensive anti-cigarette litter campaign with a pilot in Bristol. Clean Up Britain eventually hopes to extend the pilot campaign to the rest of the country.
Background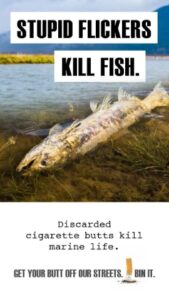 Cigarette butts are the most littered item on the planet. Even in Britain some 27 billion cigarette butts littered in Britain every year. These dropped dog ends allow toxic contaminants to seep into the environment causing significant environmental pollution to watercourses and soil. Moreover, there are now three million e-cigarette users (aka vapers. Ed.) in Britain and e-cigarette waste is also very serious since it produces plastic, nicotine salts, heavy metals, lead, mercury and flammable lithium batteries, again endangering the soil, wildlife and watercourses.
Clean Up Britain states it will be providing a comprehensive programme of behavioural change interventions in Bristol aimed at reducing cigarette butt littering at its source, by encouraging adult smokers to dispose of their cigarette butts properly. This will include various campaign publicity messages aimed at deterring the casual disposal of smoking waste.
Your correspondent wonders if this initiative is being undertaken in isolation as there is no mention of it on the newsroom section of the Bristol City Council website or indeed on the wider city council website.
How well or even whether this programme will work remains to be seen. Your 'umble scribe will watch developments with interest.
This entry was posted by Steve Woods on 23/01/2022 at 14:08, and is filed under Bristol, Language, Politics. Follow any responses to this post through RSS 2.0. Both comments and pings are currently closed.
Comments are closed.