Littered with innuendo
Yesterday's Bristol Post reported on the first month of operation of what it's dubbed the "litter police", the private contractors brought in by Bristol City Council to take enforcement action on such environmental crimes as dropping cigarette ends, littering, failing to clear up the mess of one's dog, tagging and spitting.
They've had a busy first month, issuing 1,368 fixed penalty notices with a total value of nearly £70,000.
Whilst this long overdue enhanced enforcement against the untidy is welcome (as a founder of Tidy BS5 I wholeheartedly support their engagement by BCC. Ed.), it's not the numbers that interest me, but the Post's choice of language, particularly at the top of the article, which is reproduced below.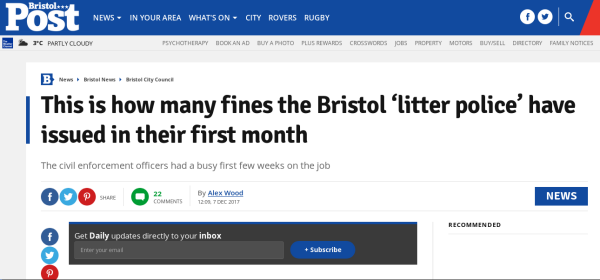 Look between the headline and the byline and you'll see the following sentence: "The civil enforcement officers had a busy first few weeks on the job".
All you Brits can stop sniggering.
Now!
"On the job" in the sense of something related to work is, to the best of my knowledge, an import from American English that has in recent decades started appearing increasingly in British corporate jargon. During my youth over 4 decades ago, the phrase had only one meaning and that had salacious connotations.
Collins Dictionary gives the following definitions for the phrase in British English:
actively engaged in one's employment;
(taboo) engaged in sexual intercourse.
As regards the first definition, this could cover tuition given during employment (e.g. on the job training): no further explanation is required for the second.
Comments are closed.