A fool and his money
Q: Pictured below are 2 men: Winston Churchill, who some would argue was the greatest UK Prime Minister ever; and Piers Morgan, a man of no discernible talent apart from sycophancy to those on the extreme right wing of politics. What links them?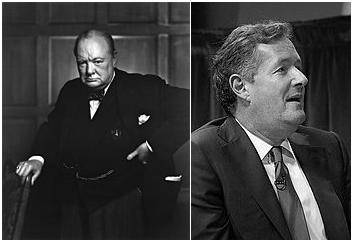 A: A cigar butt.
One of Churchill's discarded cigar butts, to be precise.
Earlier this week, Piers Morgan bought said cigar butt at auction, as reported by the Shropshire Star.
Piers (affectionately renamed Piers Moron by Private Eye. Ed.) was so pleased with his purchase, he also tweeted about it.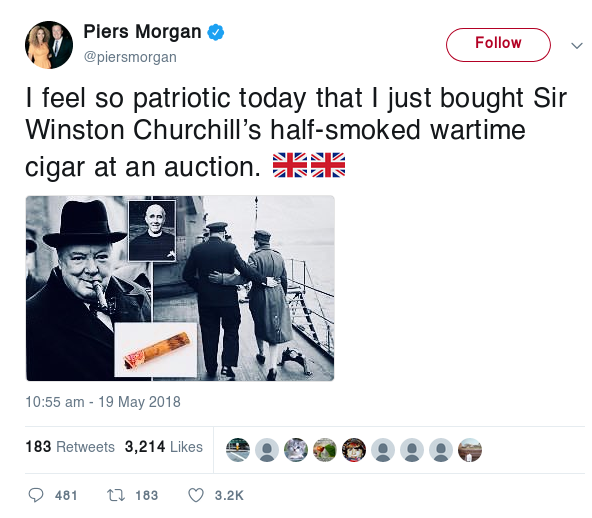 Auctioneers Travanion & Dean of Whitchurch in Shropshire had been expecting the half-smoked historical artefact to sell for about £1,000.
Piers paid £2,600 for it.
Needless to say, the final bill would have been rather more than that once the auctioneers' commission had been added.
He may have considered his action patriotic, but Piers' action reminded your 'umble scribe of an old adage, i.e. a fool and his money are soon parted.
That bit of folksy wisdom in turn set me researching its origins.
The King James version of the Bible published in 1604 has something similar to this saying in Proverbs 21:20, which states:
There is treasure to be desired and oil in the dwelling of the wise; but a foolish man spendeth it up.
However, for a rendition slightly closer to the wording in question, one has to look at 1573's Five Hundreth Pointes of Good Husbandrie by Thomas Tusser, reproduced below:
A foole & his money,
be soone at debate:
which after with sorow,
repents him to late.
The form of words commonly used in the present proverb were first just over a decade after Tusser. In 1587 Dr. John Bridges writes the sentence below in Defence of the Government of the Church of England:
If they pay a penie or two pence more for the reddinesse of them..let them looke to that, a foole and his money is soone parted.
Comments are closed.