A Scots terminology question
One Twitter account I follow is Miss PunnyMany for her insights into Scots English. She's just asked a very important question of manners and terminology in this tweet, as shown below.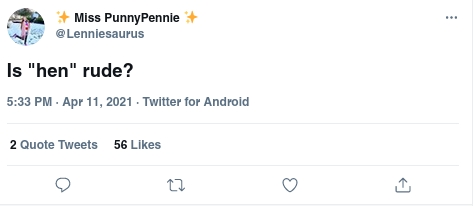 Well, is "hen" rude?
Let us see.
An accurate definition would be a good place to start.
A general glossary of Scots vocabulary posted on Stirling University's website provides the following definition:
hen: vocative term for a woman (e.g. 'It's aw richt, hen'), or a general term of endearment for anyone.
Note the phrase "general term of endearment". That's a big clue, indicating that its use is confined to close friends and acquaintances.
This view is largely borne out by the tone of the responses to Miss PunnyMany's tweet.
Furthermore, a few respondents rightly point out that, like "pal" south of the Border, "hen" may be used in a pejorative or threatening manner to people outside one's immediate social circle.
An example of this can be found in a place a fair way from Scotland, namely the chamber of the House of Commons in Westminster.
Back in March 2017, SNP Member of Parliament Mhairi Black gave rise to comment in the media and on social media when appearing to mouth the words "You talk shite, hen" to a response by Tory minister Caroline Nokes, then the Under Secretary of State in the Department for Work and Pensions.
Ms Black had just made an impassioned speech that criticised a Government proposal to withdraw housing benefits for 18-21-year-olds. Her silent, but lip-read comment denoting her clear displeasure came during Ms Nokes' reply which naturally defended the government's cruel proposal.
So there you have it, use "hen" sensibly and restrict it to family, close friends and acquaintances, you shouldn't go too wrong.
Comments are closed.