A very special bus service
One of the phrases guaranteed to dismay every regular user of Britain's chaotic and overpriced railway network is rail replacement service. This involves taking the scheduled service off the rails (usually for engineering works at busy holiday periods when everyone either wants to get away and/or visit friends and loved ones. Ed.) and substituting the rolling stock with buses, with the inevitable increased journey times and a reduction in passenger comfort.
However, these rail replacement services do not serve Stapleton Road railway station, where the sign shown below is affixed to the Frome viaduct wing wall on the station approach.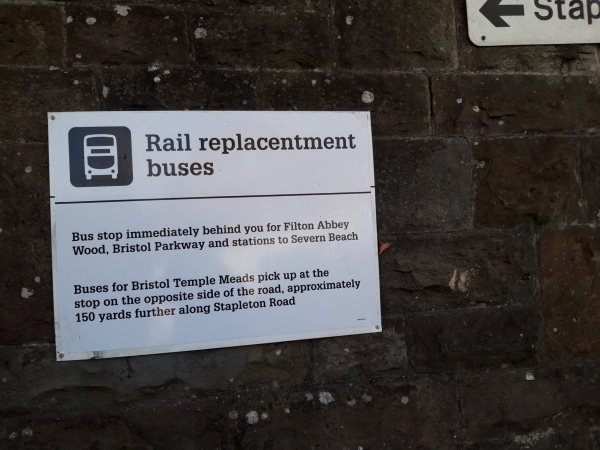 As the station is under the management of First Great Western, an alleged train operating company, you 'umble scribe assumes it was their staff who designed, wrote and approved the final signage.
For any passing First Great Western signage design drones, here's a wee tip: a spellchecker now comes as a standard feature of all popular office productivity suites. 😀
This entry was posted by Steve Woods on 24/09/2021 at 10:38, and is filed under Bristol, Language, Oddities. Follow any responses to this post through RSS 2.0. Both comments and pings are currently closed.
Comments are closed.