Borked in Bristol
The last time your 'umble scribe visited Bristol City Museum and Art Gallery was before the first pandemic lockdown over two years ago. There's always lots to see and the first thing I observed was the major changes to the art exhibits. Local talent features prominently in these, including the 19th century Bristol School of Artists and prominent portrait painter and local lad Sir Thomas Lawrence PRA. Furthermore, the ceramics section has a fine selection of ware from the late 17th and early 18th century Brislington Pottery.
However, the excellence of local art and crafts was not matched by local artefacts from the period of Roman occupation, being limited to the Thornbury Hoard (although 3,000 Roman coins on display is quite impressive. Ed.), one Samian ware bowl and a solitary drinking vessel, which is pretty poor considering the major influence and changes wrought by the Romans during the three and a half centuries that Britannia was a province of the Roman empire and ample evidence of Roman settlement and economic activity in the area. These include. for example, Abona Roman port at the confluence of the River Trym and Bristol Avon, visible remains of of Roman roads, villa sites, plus the 2 Roman pigs of lead found in 1865 in Wade Street in St Judes whilst excavations were underway on the old bank of the River Frome).
On the other hand, the museum does have a fine natural history section, especially in respect of extinct fauna – the giant Irish elk skeleton with its antlers spanning a width of 3 metres is most impressive – and fossils and dinosaurs in particular.
As is well known, generations of children have displayed a passion for dinosaurs. Bristol City Museum and Art Gallery has catered for this passion by installing interactive displays. Nevertheless, any child currently wishing to learn more of the life and times of Doris the Pliosaurus would have been disappointed at the time of my visit as Doris' display was – to use a technical term borked.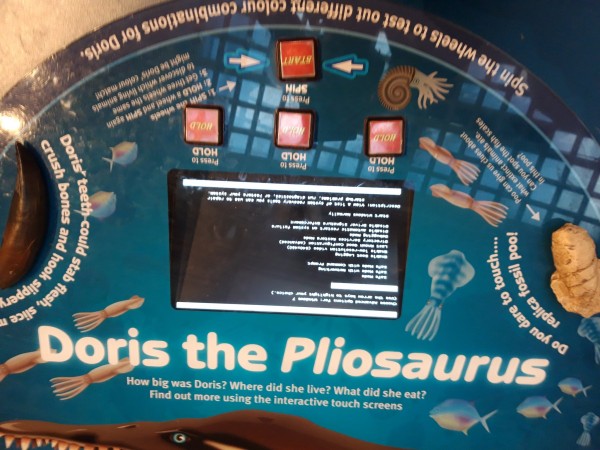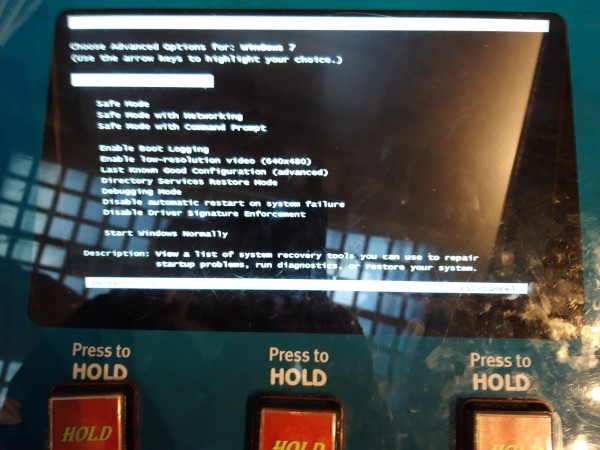 The bottom picture clearly clearly shows Microsoft's Windows 7 misbehaving, a not uncommon undocumented feature of the Beast of Redmond's alleged operating systems.
If anyone desires to see more borkage in public, your 'umble scribe would refer such readers to The Register IT news site, which has a dedicated bork section/archive.
This site uses Akismet to reduce spam. Learn how your comment data is processed.