Mr Gove pays a visit
Yesterday the BBC reported on the visit of DEFRA Minister Michael Gove (the man who, when Education Secretary, wanted all schools to be "above average". Ed.) to the Antrim Show in the company of DUP MPs Paul Girvan and Ian Paisley.
The DUP are of course the minority Conservative government's new best friends, having bribed them with £1.5 bn. from the "magic money tree" (© Prime Minister Theresa May) to prop it up in crucial parliamentary votes.
Whilst courting his party's new best pals in the DUP, Gove managed at the same time to snub half of the Northern Irish electorate by pulling out of a meeting with Sinn Féin at the last minute.
However, the BBC fails to make mention of the sterling groundwork done by DEFRA civil servants in communicating the pre-visit wisdom of the Minister to the local media. In this context we should be grateful to Belfast freelance journalist Amanda Ferguson for posting the following on her Twitter account.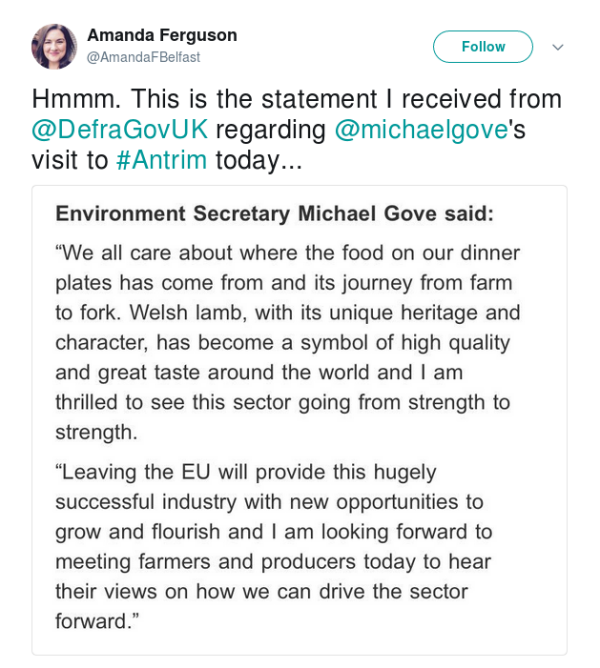 No, you didn't misread the above. Gove mentioned Welsh lamb, a product with a protected food name, the implication of this being that he believes this fine product from west of Offa's Dyke actually comes from even further west from over the Irish Sea.
One has to wonder whether Mr Gove could find his backside with both hands with such a poor grasp of geography. It was evidently not a subject at which he excelled at Aberdeen's independent Robert Gordon's Academy, to which he won a scholarship.
For your 'umble scribe this is yet further proof that the government in Westminster and their sidekicks, the mandarins in Whitehall, care little for anywhere in the country outside the M25 and the metropolitan commuter belt and tend to view the devolved regions of the United Kingdom and the English regions too as little more than colonies of London and therefore ripe for exploitation and patronising treatment.
Comments are closed.