Press gets it wrong – again
If there's one characteristic of the English Empire's free and fearless press and the news media in general that's immediately apparent to anyone with more than one brain cell, it's their usually remote relationship with the truth.
In the last week or so a new word has emerged – pingdemic – in relation to the coronavirus pandemic to describe the large volume of self-isolation warnings issued by the Covid track and trace app (aka pings (pl.), as derived from the computer networking utility of the same name. Ed.).
Thus the terms ping and pingdemic have become part of normal newspaper and news media vocabulary, as shown in this typical example from yesterday's London Evening Standard.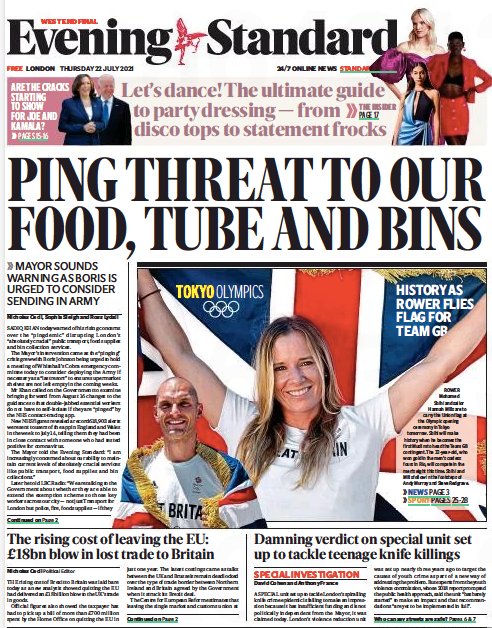 Whoever wrote the headline Ping threat to our food, tube and bins has clearly not thought the matter through.
It's not the pings that are the threat but the viral plague which is giving rise to rocketing Covid, aided and abetted by an apology for a government that has removed restrictions far too soon and relinquished – in exemplary Pontius Pilate mode – all responsibility for safeguarding people's health in the rush to let all their rich mates resume making Loadsamoney again.
All news is to a certain extent manipulated, but if those that right it cannot even get the basic details correct in a headline, is it any wonder that there is deep mistrust in the media?
Still, never mind with all this gloom and doom. Immediately adjacent is a prime example of look over there in the form of the current 2020 Olympic games in Tokyo.
The staff of the Standard clearly seem to have adopted the comment by Juvenal, the 2nd century Roman poet famous that the common people are only interested in bread and circuses (Latin: panem et circensis. Ed.) as editorial policy
This entry was posted by Steve Woods on 23/07/2021 at 11:49, and is filed under Language, Media, Tech. Follow any responses to this post through RSS 2.0. Both comments and pings are currently closed.
Comments are closed.