Christmas cancelled?
It's that time of year again, when the rumour circulates that Christmas has been cancelled to avoid upsetting members of other faiths.
This is of course pure nonsense whipped up by fearful and over-sensitive right-wing commentators in the media and has been debunked every time it's been mentioned.
Who's to say that adherents of other religions don't enjoy the Christmas celebrations as much as followers of Christ? Jesus was after all born Jewish and under the name of Isa, is regarded as one of the twenty-five prophets of Islam
As proof that this year's Christmas has not been cancelled by the anonymous PC Brigade, here's a shot taken of the window of my nearest butcher in Roman Road, Easton. Please supply your own stuffing and cranberry sauce. 😀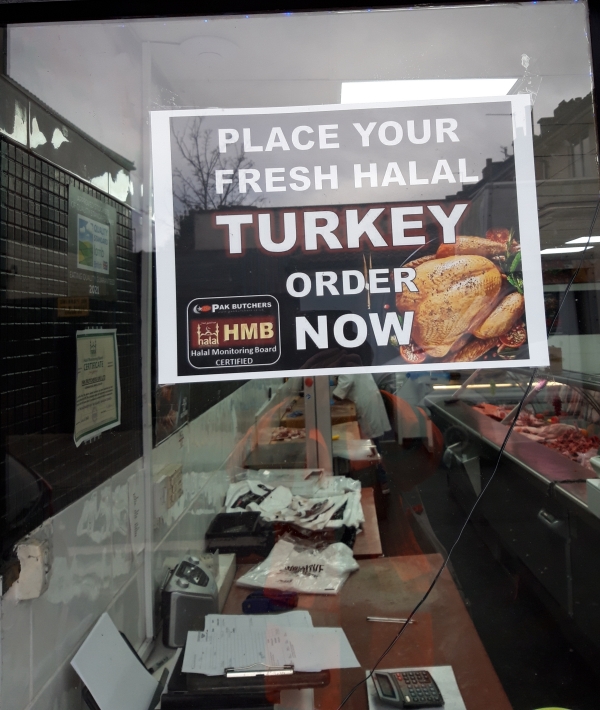 Cancelling Christmas has a long history in this country, stretching back to the mid-17th century when, following the English Civil War, the the Commonwealth of England was governed by a parliament dominated by Puritans, who objected to certain practices they viewed as unbiblical, including the long-established feast of Christmas. In 1647, the English Parliament banned the celebration of Christmas, replacing it with a day of fasting and considering it "a popish festival with no biblical justification", as well as a time of wasteful and immoral behaviour. Protests followed: pro-Christmas rioting broke out in several cities and for weeks Canterbury was controlled by rioters, who decorated doorways with holly and indulged in other practices bound to annoy the killjoys who have been with us ever since.
All of which brings us to the infamous Winterval. Frequently cited as the ultimate Cancel Christmas event, Winterval was nothing of the sort, but a mere two events held in successive winters in November and December 1997 and 1998 to encourage people to return to the newly rejuvenated city centre. These featured secular and religious events marking religious and other occasions, including Christmas, during those two months. Winterval has since become popular shorthand for misrepresented events to "rebrand" Christmas so as not to exclude non-Christians.
This entry was posted by Steve Woods on 05/12/2021 at 13:46, and is filed under Bristol, Oddities, Politics. Follow any responses to this post through RSS 2.0. Both comments and pings are currently closed.
Comments are closed.