1977 was allegedly a year for celebration as Elizabeth Mountbatten-Windsor had spent 25 years as unelected head of state of the English Empire (which some still call the United Kingdom. Ed.).
At the time I was in the final year of my degree and well remember derelict buildings in the town centre being draped in bunting in preparation for a drive-by the queen.
All the sycophancy at that time helped turn your 'umble scribe into a lifelong republican, i.e. someone who would like to see this country abolish the monarchy and switch to having an elected – not hereditary – head of state. This is not to be confused with a right-wing US political party spelled with an upper case first letter.
Come right up to date and Elizabeth Mountbatten-Windsor has now been minding the shop for 70 years, a record for the country. However, support for the monarchy is not as widespread or whole-hearted as it was in 1977 and in Scotland support for the monarchy is now down to 45%, as reported by The Guardian.
However, that does not mean that republicans are having an easy ride for their beliefs, which they allegedly have a democratic right to express, as illustrated by the tweet below from the account of the Jeremy Vine show on Channel 5, a low point in daytime TV.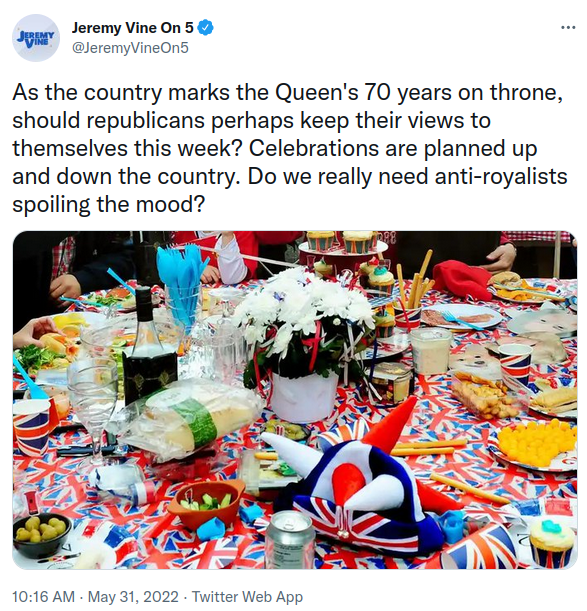 I have no intention of being quiet. Indeed, yesterday I found the Stuff The Jubilee badge I bought in 1977 and am already wearing it with pride as per the encouragement from my ex-wife.
Your correspondent won't be the only one in east Bristol not celebrating this momentous non-event. News of three of our local pubs organising a F*ck the Jubilee punk festival has not gone down too well with some sections of the city's populace.
At a national level, Republic, the organisation campaigning for the abolition of the monarchy, has organised a petition to make Elizabeth the second the last monarch.
And finally, now for something completely different…